Shakopee is backing down from a legal fight over the expansion of the nearby Shakopee Mdewakanton Sioux Community.
By DAVID PETERSON, Star Tribune
Last update: December 3, 2008 – 3:55 PM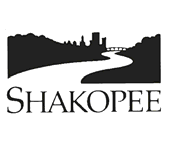 The city of Shakopee is backing away from its fight to stop the

Shakopee Mdewakanton Sioux Community from widening the borders of its reservation by several hundred acres, a move it described a year ago as a threat to its future as a rapidly growing suburb.
But it says it has achieved a concession: The federal government has pledged, from now on, to bring the city in as an active player any time the casino-enriched tribe tries to make a similar move.
"And that will happen again,"

Mayor John Schmitt said. "We're certain of it."
The dispute is over the tribe's desire to place more than 700 acres it has acquired, most of it in Shakopee, into what is known as trust status. That makes it, effectively, part of a sovereign nation, removing it from the tax rolls and from zoning control by surrounding jurisdictions.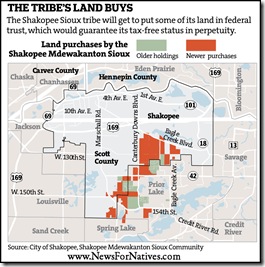 It was at best a somber city council that dropped its dukes-up posture on Tuesday night and approved a tentative deal with the U.S.

Bureau of Indian Affairs (BIA), avoiding an expensive full-scale legal challenge at a time when the city faces a budget crunch severe enough to force it to cut staff positions.
"We were forced to go this alone, financially, since our 'good neighbors,' Prior Lake and Scott County, decided to leave us
hanging in the lurch," said Council Member Steve Clay. "They decided not to participate with us in this endeavor, and it's expensive. My impression is, this is probably the best result we can expect, given the time and expense we are willing to put into it."
Prior Lake has been forging a cooperative relationship with the tribe for some time now. The Scott County board only narrowly, on a 3-2 vote, made the same call a year ago.
Both county board members representing the tribe's closest neighbors had wanted to fight on. And some interpreted the results of this fall's elections for county board as an expression of continued public unhappiness. The two candidates who took the most skeptical positions on the tribe were elected, and a candidate with family connections to the tribe was defeated.
Tribal officials were preparing a formal written response on Wednesday but had no immediate comment.
The tentative, seven-page agreement has a number of key elements that will make any future dispute of this kind more fair when it comes to the impact upon the city, Schmitt said Wednesday.
"Basically, the BIA is now responsible for bringing [the tribe] to the table, giving us early notice, making us legally a party in anything that's being done, and lets us talk about 'cumulative effects'" on the city and not just its concerns over lost tax revenue, he said.
Specifically, he said:
• The BIA must alert the city within days of any future trust application — a big change from what the city suspects has happened before, namely a lengthy period of behind-the-scenes activity before anything was unveiled. "We get the earliest possible notice, to facilitate our planning efforts," so that nearby officials do not for instance wind up building a school in a part of town that will never have many students.

• The BIA must ask the tribe to sit down with the city and talk things out. It doesn't have to, "but if they fail to participate, it becomes a matter of record that they are not willing to negotiate."

• The city gains the right to put on the table the messy particulars of a tribe's expansion in a fast-growing urban area in which expensive infrastructure such as sewer lines can become useless if certain key parcels disappear from the mix.

"It's not like a tribe out in some rural area buying farmland," Schmitt said. "In a metro area, you run into problems. It gets cloudy."

• The city gets a measure of reassurance that there is no intent to add more casinos onto any of the newly sovereign land.
City Administrator Mark McNeill told the council he sees the agreement, which must still be ratified by the BIA, as "a good starting point for future cooperative efforts" among the BIA, the tribe and the city. "All parties benefit," he said.
Council member Terry Joos described the agreement as a "good start," adding:
"As we've sat here and gone through these negotiations, for lack of a better term, this is what we've been asking for all along. We never said no to expansion or gaming but want to be a participant and have input into what's affecting the city of Shakopee. This is giving us a start on some of those issues."
http://www.newsfornatives.com/blog native american news source information natives politics satire www.newsfornatives.com where native american indians go for news nationwide computer repair worldwide laptop repair cheap computer repair http://www.cheapestpcrepair.com/wow fastest laptop repair screen replacement mother board repair http://www.cheapestlaptoprepair.com virgin vegan vegetarian in des moines, ia http://www.stopthecarnivore.com stop eating meat no animal products