By MATTHEW HEALEY
Published: November 27, 2008
Corn, beans and squash — the "three sisters" of Native American agricultural tradition — will appear on the nation's one-dollar coins next year, in a design to be announced Friday by the United States Mint.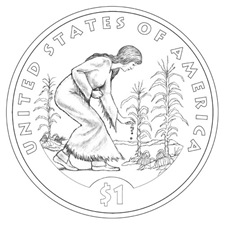 By the dictates of an act that Congress passed last year, the reverse side of the gold-colored
Sacagawea
dollars will bear a new design each year starting in 2009, as part of a thematic series showing Native American contributions to the history and development of the United States.
The first coin shows a young Indian woman planting seeds in a field of cornstalks, bean vines and squash. Adopting Indian farming methods proved crucial to European settlers' surviving their early years in America. The coin will enter circulation in January alongside the continuing series of presidential one-dollar coins, which began in 2007 (the ninth coin in that series, with a portrait of William Henry Harrison, will be released in February).
The theme for 2010 will be government. The second coin will show the Great Tree of Peace; a design for it will be approved next year. Future themes, to continue at least through 2016, are being worked on.
The themes are developed by the mint, the National Museum of the American Indian, the National Congress of American Indians and committees in Congress that deal with Indian affairs, said Carla Coolman, a mint spokeswoman.
At first glance, the new coins appear to contain an error: the date is missing from its customary spot next to Sacagawea's face, where it has been since the design was introduced in 2000.
But the omission is deliberate. The law authorizing the new coins decrees that the date, mint mark and motto "E Pluribus Unum" be cut into the edges of the coins, in the same manner as on the presidential dollars. Until now, the edges of the Sacagawea coins had been blank.
The reverse side of the Sacagawea dollar coin will change each year, starting with this design by Norman E. Nemeth.
http://www.newsfornatives.com/blog news for natives native american news source information politics indian political opinions american indian tribal news