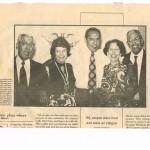 She was born on March 21 1911. Here is a picture of her brothers and sister. Selisha is on the left side. We love and miss mom. Love Mickey, Beverly, Sharon, Linda and the rest of your family.
My uncle Russ is in his 80's, he has the white shirt on. My auntie Margaret is in her 90's.  We love you both so much!
If you would like to read this article where this picture came from, go to the Circle Newspaper website and print it. It is under the February 2000. The website is  thecirclenews.org
This story is about us becoming the Mendota Mdewakanton Dakota Community. It is also the home of our ancestors. Our ancestors never  left Mendota, this is our roots.
Their are many other families that belong to the Mendota Community. If you would like to add your family to our site, then send me your story, pictures, etc. We would love to share them. Sharon
Click on the picture once to make it larger, twice to make it even larger.