By Troy Krause, Editor
Redwood Gazette
Posted Jan 27, 2011
A lawsuit filed on behalf of thousands of lineal descendants of an 1886 U.S. census is nearing its end.
While rumors have called the suit dead, the reality is the case is alive and well. Redwood Falls native Erick Kaardal  represents approximately 7,000 of the 22,000 claimants in the case of Wolfchild vs.
the United States.
The basic claim of the suit is the United States in the 1880s placed land in a trust for those Mdewakanton Dakota who were loyal to the nation and were allowed to remain in Minnesota at the end of the Dakota Conflict.
That land was placed in a permanent trust at that time for those on the census list as well as for their descendants.
Over time, those lands, which include reservations at Lower Sioux, Prairie Island and Shakopee, have been taken out of the control of the lineal descendants by others who were allowed to return as part of the federal Indian Reorganization Act.
The suit claims the descendants have a right to that land based on the promise of the United States.
At a hearing held this past week in Washington, D.C. those involved in the case talked about the amount of money that could be involved in this claim, as casinos now exist on all three reservations, as well as who would and would not be considered a legitimate claimant.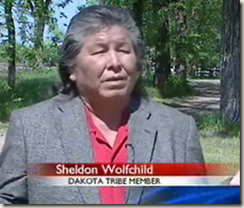 One of those who can trace his ancestry to a name on the census in Al Eller, who said his grandfather was Henry St. Clair.
Eller, who said since the suit was first filed, several claims have been made that are untrue, including a rumor a couple of years ago of what was called a white-out of casino employees.
The rumor was in regards to what is known as TERO, which gives preference to American Indians when job openings occur, so long as the individuals have the qualifications.
"These are just scare tactics," said Eller, adding from his perspective when it comes to employees the best person for the job should have it.
A ruling has been handed down recently that allows for the allocation of a trust fund of $1 million given to those loyal Mdewakan-ton who ceded land to the U.S. in exchange for financial compensation. After the initial payments were ended due to the conflict, a new treaty was signed in 1868 that resumed the payments for that land turned over to the government.
A U.S. federal court judge sided with the tribe, and the hearing held this past week was directed by presiding Judge Charles Lettow to create a payment plan.
A series of scheduled dates held from February through May are intended to help create that plan before final judgment is handed down by the court.
"The Wolfchild case goes on," said Kaardal, adding, however, the final resolution date of the case still remains unknown.
Copyright 2011 Redwood Falls Gazette. Some rights reserved
THIS STORY CAME FROM WWW.NEWSFORNATIVES.COM AND HAS BEEN COPIED TO WWW.MENDOTADAKOTA.COM