After the Dakota Conflict in 1862, Congress passed legislation banning Dakota Indians from Minnesota and the Dakotas.Now, over 140 years later, one state lawmaker is asking Congress to repeal the law.
As News 12's Bryan Piatt reports… it's stirring up mixed emotions among area tribe members. Sheldon Wolfchild read the news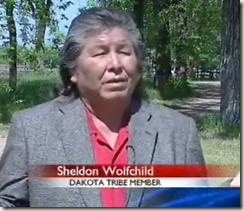 when he opened the newspaper a few days ago.Sheldon Wolfchild says, "I'm going…all kinds of emotions run through me. I didn't know it was still in the books."It still is… a ban on all Dakota Indians after war declared on these lands. That may soon be repealed after legislation brought forward by State Representative Dean Urdahl.Dean Urdahl says, "It basically is a bad law that's still on the books. I felt there was some need for reconciliation and a need to take a bad law off the books." Wolfchild and Pam Halverson are both members of the Dakota tribe. They say the repeal would provide healing for them and also teach an important lesson to everyone in the state. Sheldon Wolfchild says, "It's going to open up another avenue of healing for us. Not only for the Dakota people but for the other people in Minnesota to realize that we have to look at each other as common human beings from the heart…not just from the mind." But both point out it doesn't erase what happened here over 100 years ago, when their ancestors were taken to prison camps… some even hung. Pam Halverson says, "It's the start of a healing process for my people. It's not going to take anything away from what happened in 1862 but it's a start." A start Wolfchild says he's shocked he may get to witness. Stephen Wolfchild says, "I never thought this would happen in my lifetime but I'm grateful for it." All that is needed now… is vote from Congress and a signature from President Obama.
Get this and other news. politics and satire from http://www.NewsForNatives.com
playvideo('162260', '3');