We have lost another cherished loved one, I will miss his smile. When I think of David I will think of him on the drum. And of course Tracy by his side.
David Emery Wilson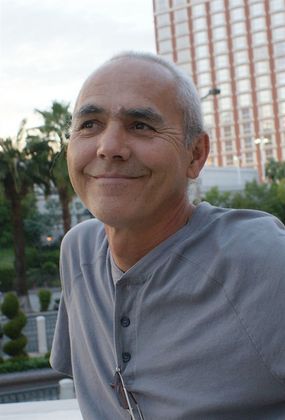 David Emery Wilson, "Ogema Benai" which means "King Bird", 55, of Brooklyn Center, MN, passed away on Thursday, May 5, 2011 at home with his family by his side. He was born on November 18, 1955 in Cass Lake, MN to Matthew Lambert and Mary Jane Wilson.
David enjoyed life and using his tobacco. Everything he did had so much enthusiasm.
He was preceded in death his father and all his Sundance family that went before him.
David is survived by his wife Tracy of Brooklyn Center, mother; Mary Jane of Cass Lake, sons; David (Jenny Bilges) Wilson, Jr. and Michael Wilson both of Brooklyn Center, daughters; Deanna (Korey) Fredrickson of Brooklyn Park and Rebecca Cacas of Minneapolis, MN, grandchildren Gordon Guenther, Alysa Stahlmann and Makenzie Cacas.
A wake service for David will begin at 5:00 p.m ., Saturday, May 7 at the Indian Center 1530 East Franklin in Minneapolis. The wake will be moved on Sunday to the Facility Center in Cass Lake where it will continue until the 12:00 p.m. service on Monday. Merlin Deegan, Sr. will officiate. Pallbearers will be David Wilson, Jr ., Michael Wilson, Gordon Guenther, Terry Alex, Dewitt Mahto and Paul Peralta. Honorary pallbearers will be the Crow Creek Long Riders and the American Indian Movement. Interment will be held at the Prince of Peace Cemetery in Cass Lake following the service.
Arrangements entrusted to Northern Peace Funeral Home of Walker, MN.
Online condolences may be given at
Wilson, David Emery 55, entered his spirit journey, on May 5, 2011, at his home in Brooklyn, Center, MN. David, lifelong member of the American Indian Movement, worked at the Star Tribune for 35 years, and is survived by his wife, Tracy Wilson; mother, Mary Jane Wilson; children, Deanna (Korey) Fredrickson, David Jr., Michael, and Rebecca; and grandchildren, Gordy, Alysa, and Makenzie. Visitation (Sunday, May 8, 2011, 5:00-funeral) and funeral services (Monday, May 9, 2011, 12:00 p.m.) will be held at the Leech Lake facility center, Cass Lake, Minnesota. Interment will be at Prince of Peace Cemetery. Memorials preferred.
Published in Star Tribune from May 8 to May 9, 2011