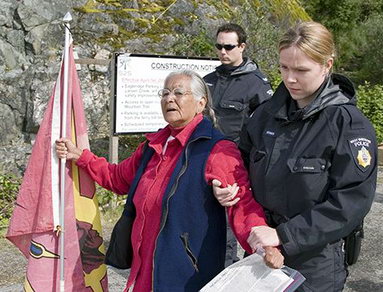 NYM press release March 2007
unceded Coast Salish Territory
nymchapter604(at)hotmail.com
March 30, 2007
Harriet Nahanee, a 73 year old Pacheedaht Grandmother, Elder, and Warrior passed away on February 24, 2007, in the manner that she lived her life. Standing strong defending Our Land and Our People. She died from pneumonia and undiagnosed lung cancer after serving 2 weeks in prison for her part in the 2006 blockade to defend Eagle Bluff, from the expansion of the Sea to Sky Highway, on her husband's Skwxwu7mesh territory. The highway expansion is a key development project for the corrupt Vancouver/Whistler 2010 Winter Olympics.
In her lifetime, Harriet Nahanee was a loyal, supporter of AIM Warrior, Leonard Peltier, who was extradited from Vancouver in 1976, and convicted of the murder of 2 FBI agents. AIM had been actively supportive in the Lakota struggle to defend their communities in Pine Ridge from the FBI instigated war for the uranium in the Sacred Black Hills. The 2 FBI agents died in 1975 in a gunfight they started against an AIM family style camp. Since Leonard Peltier's conviction, the truth has come out that the FBI fabricated testimony and evidence to extradite and convict Leonard Peltier of these murders.
Today, the FBI is attempting to pin Anna Mae's murder on her trusted friend and comrade, former AIM member and Warrior John Graham. When Anna Mae's body was found, the FBI attempted to cover-up her murder, but failed when a 2nd independent autopsy made the discovery of a bullet lodged in her head. Since that time, the FBI has worked hard over the years to pin Anna Mae's murder on her own organization, AIM.
Since John Graham's arrest in Vancouver in December 2003, for the 1st degree murder of Anna Mae, Harriet Nahanee, has stood by John through his 4 years of living under house arrest, and through his 2005 Extradition hearing that was approved. During Harriet's last days in the hospital before she passed away, her close friend Jennifer Wade of Amnesty International visited her. Her last words to Jennifer were about her biggest concerns. First she brought up her 78 year old Eagle Bluff Comrade Betty Krawczyk, who is currently serving a 9-15 month sentence for her part in the blockade. Then Harriet brought up John Graham and his May 17, 2007 extradition appeal. Jennifer Wade reassured her that John's loved ones, his supporters, and his lawyers would work hard to fight John's extradition.
On behalf of Harriet Nahanee, a strong Pacheedaht Elder, who has passed away standing up for Our People, we ask that people look at the facts in this murder case, and to stand strong beside John Graham. This murder case has nothing to do with delivering justice for Anna Mae, and is only a part of the FBI smear campaign that is set out to destroy any pride Natives may have about the contributions made to Our People by the American Indian Movement.